 The Best Comic Book selection in Town since 1990
We at Myths, Legends & Heroes are committed to fulfilling your comic book needs. If you are looking to fill holes in your collection, find key issues, or want an interesting read, we will do our best to help you!
We are open to in-store shopping. Please sanitize your hands before shopping. We can accommodate a maximum of 8 customers at one time. Be patient and consider others waiting while shopping.New comics are arriving weekly. Help us stay afloat by picking up your subscriptions promptly. If you need a back issue or trade paperback, Rob will dig through our back stock to fulfill your needs.As always we are interested in purchasing your collection. Email a list and we will let you know if we can use it.
Stay safe.
---
Upcoming Events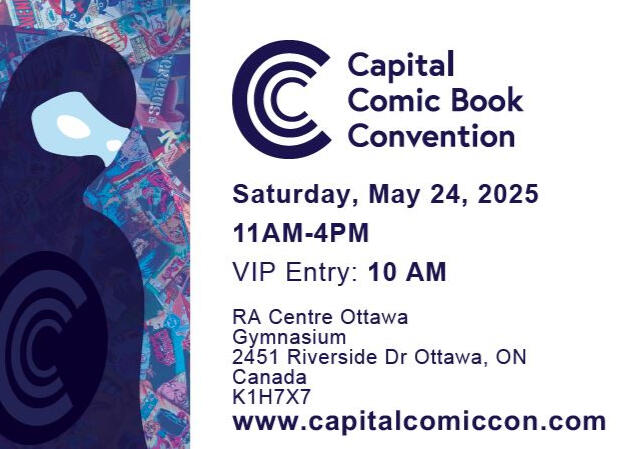 The next edition of the Capital Comic Book Convention is returning on May 7th. Join us there! Tickets and information are available at the link below.
NEW Issues arrive weekly!
We are still getting in new stock weekly. Our subscription service is continuing. With reduced traffic, it becomes difficult to stay afloat if books are not being sold. Please don't let your orders pile up.
We have also reduced our orders to the publishers so make sure you confirm your copy of that key book. We don't want you to miss out.
Backissues can be searched by us but please email your want list so we can work at filling it before you come by.
Stay safe and keep reading and collecting!
Subscribe with Us
Discount level counts towards Comic Back Issues, Trade Paperbacks, and Hard Covers. Subscribers get 10% off comic supplies (bags and boards are included with all subscription titles). Subscribers are also eligible for Prize Draws.
| Monthly Titles Subscribed to | Discount |
| --- | --- |
| 1 to 9 | 10% |
| 10 to 15 | 15% |
| 16 or more | 20% |
New Releases
Thanks to all our loyal customers who give us positive feedback, word-of-mouth promotion, and reviews that help us get the word out that we are the greatest comic book store around.Check out the other lists of Ottawa's Best at the link below.
© Myths Legends & Heroes. All rights reserved.